Garage Cabinets and Flooring, Closets, Home Storage Solutions in Massachusetts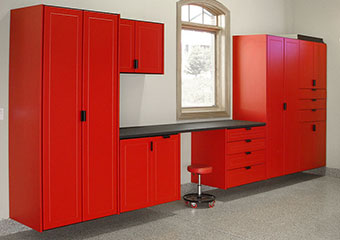 You can have the garage you've always wanted. A workshop. A gardening center. Storage solutions for your kids toys. Even a place to park your cars.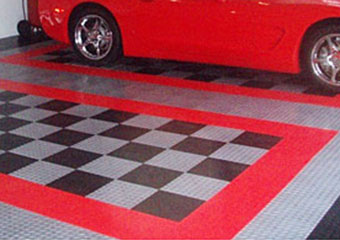 We offer both modular flooring and floor coatings to improve the look of your garage while protecting your floor.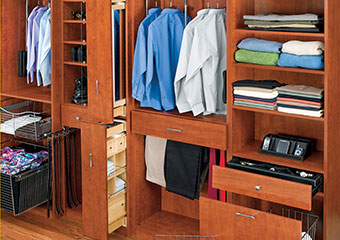 Expand your closet with a custom-designed closet organizer. Your custom-built organizer will utilize every inch of your closet.
Garage Cabinets and storage solutions for any environment
If you live in Eastern Massachusetts you've experience our rapidly changing weather and its effects on our homes. Clear Space can't change our crazy weather, but we can help you organize your garage with garage cabinets that can stand up to it!
Clear Space is the exclusive authorized dealer for RedLine Garagegear garage cabinets in this area. RedLine garage cabinets are custom-built in the U.S.A. They feature a powder-coated finish that can withstand temperature extremes and high humidity (sound familiar?), spills, and rough handling. These high-quality garage cabinets are built to last and offer a Lifetime Manufacturer's Warranty. Finish your garage makeover with slatwall or grid wall panels and accessories to organize hard-to-store garden equipment, sports gear and toys.
Enjoy your garage any time of day
With Lifestyle garage door screens your garage can be bug-free for you to enjoy no matter what time it is. Work in your garage any time you want, free from annoying pests. You can even have a party in your beautiful newly organized garage. A sliding center door offers easy access for you and your guests.
Protect and beautify your garage floor
Whether your garage floor is brand new or cracked, chipped, or stained, you can protect and beautify your floors at the same time. Clear Space offers modular floor tiles and epoxy garage flooring options to enhance your home and protect your investment for many years.
Expand the space in your closets
Most closets only come with a single rod and shelf, so a great deal of space is wasted. With RedLine Closet Systems, we use every available inch of space in your closet. Our custom closet organizer solutions can be used for any type of closet, from walk-ins to reach-ins. These systems aren't just limited to organizing closets! RedLine Closet Systems can be used in nearly any room in your home… laundry rooms, home offices, mud rooms, pantries, or any other area of your home you want to get organized.
We'll treat you like you're our only customer
We work with each of our customers on an individual basis. We start with a free, no-obligation consultation. We'll bring our mobile showroom along and design a custom storage solution just for you. When your new cabinets are delivered we'll install everything to ensure a proper fit.
Clear Space Garage and Closet Storage Solutions currently serves homeowners in Middlesex, Norfolk, Bristol, Plymouth, Barnstable (Cape Cod), Dukes, and Nantucket (The Islands) counties. Contact us today for your free consultation and find out how you get organized for good. And don't forget, we'll bring the showroom to you!